SiteNet BBS
"We specialize in the installation and templating of SiteNet BBS to integrate this product into the look and feel of your design!"
Bring the power of community building to your web site with SiteNet BBS. Engage your visitors into a deeper relationship with your web site to share ideas &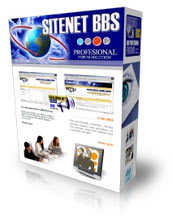 information, exchange thoughts, give them a place to post their views, and more. In almost any situation Forums will increase more interest in your web site and will ensure more returning visitors.

Sitenet BBS is a complete, powerful and professional Forum solution that can be added to almost any web site with ease. It has been created to be user friendly in every aspect and offers a wide range of powerful features.

Amongst the core features of SiteNet BBS is that it is extremely customizable. The level of customization provides you with the ability to brand your Forums according to the look and feel of your web site. All HTML/texts displayed to end-users can be customized according to your needs. You can implement any design into your Forums. This also ads the ability to offer your Forums in any language.